Ethiopia
Community Health Workers Deliver on Quality Services
Ethiopia ranks among the world's highest TB burden countries, with the disease killing approximately 24,000 Ethiopians each year, about 66 people each day. However, considerable progress has been made in reducing the impact of TB in the country, thanks to determined leadership at all levels and targeted international assistance.
There has been significant progress in reducing the rate of new cases, which have fallen 44 percent since 2000. This means 122,000 fewer people were developing the disease in 2019 than in 2000. Ethiopia has also reduced TB mortality, among both HIV negative and HIV positive people, with the country seeing 83,000 fewer deaths from TB in 2019 compared to 2000, a 78 percent drop. Since 2014, TB incidence has fallen four to five percent a year.
In 2016, a team of U.S. experts on TB from the Center for Strategic and International Studies carried out a study of the TB challenges facing Ethiopia. Following field visits and extensive discussions with senior leaders, including the country's president, the team concluded that the country's successes could be traced to the high level acknowledgement of the magnitude and complexity of TB, effective use of donor funds and a strong commitment to provide health care for the entire population.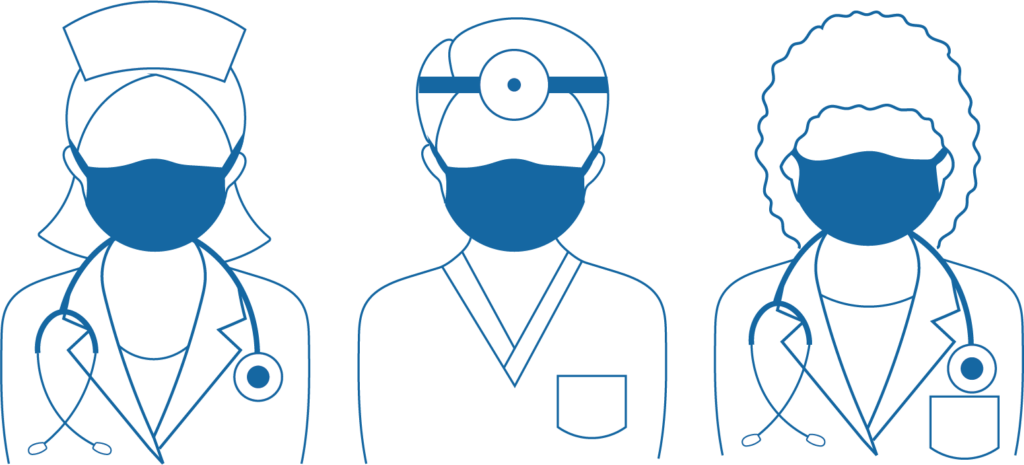 Health extension workers are a cadre of community health workers empowered to deliver 16 basic health services at the local level, including awareness raising about TB.
Health services in Ethiopia are integrated into the primary health delivery system and are decentralized to rural areas, where 80 percent of the population lives. All public hospitals and health centers provide TB services, and, according to a 2020 study of the TB programs by MEASURE Evaluation, community TB care has been rolled out to most of the country's 16,660 health posts, which are staffed with health extension workers. They are a cadre of community health workers initiated in 2003 and empowered to deliver 16 basic health services at the local level, including awareness raising about TB, referral of symptomatic cases and advice to patients on treatment adherence.
Ethiopia's leaders have made strategic use of international assistance to improve the quality and reach of TB services, starting with case finding. In 2010 the country began receiving grants from the Stop TB Partnership's TB REACH program to improve case-detection and treatment completion among rural residents, the incarcerated and refugees. The health extension workers conducted door-to-door screenings and collected sputum samples to find people in need of TB services.
On the basis of an extensive 2011 TB survey, Ethiopia developed a National Strategic Plan (NSP) for 2013-2020 that placed a strong emphasis on improving the quality and community ownership of TB services. This focus on quality was carried through to the overarching Health Sector Transformation Plan (2015) that identified TB as a major priority, including MDR-TB. In 2020 a new plan has been developed, with technical support from the KNCV Tuberculosis Foundation, and it includes bold plans for scaleup.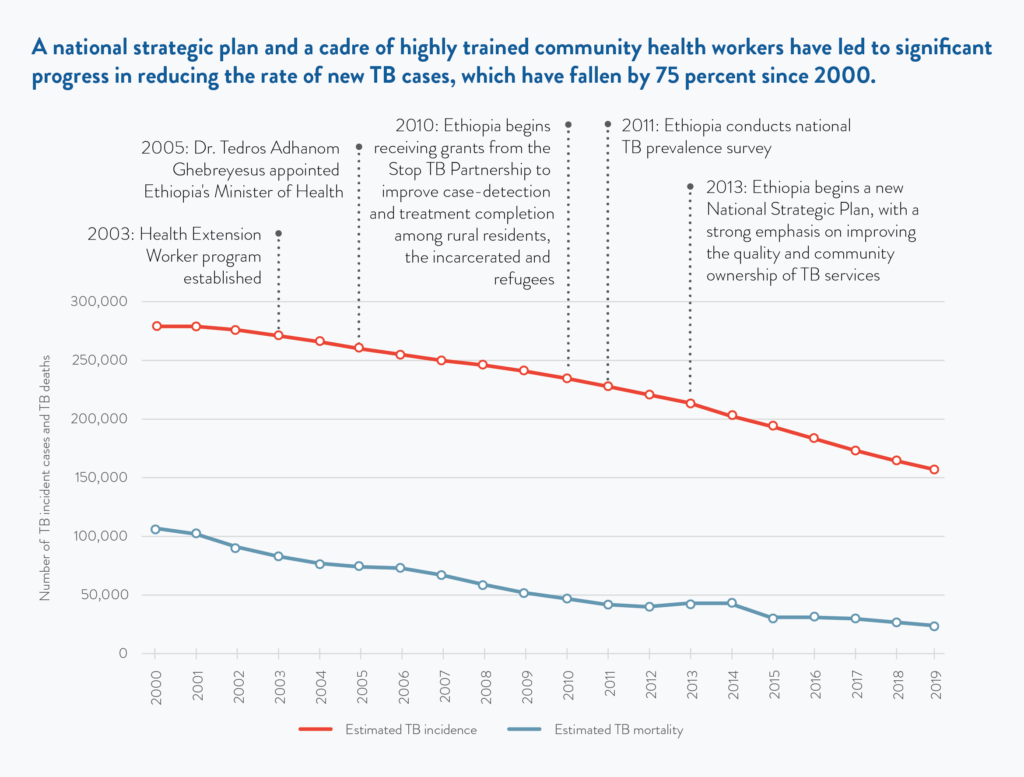 Keeping Up the Fight
Ethiopia still faces major challenges as it seeks to meet the targets it committed to as a part of the UN High Level Meeting on TB in 2018. 157,000 people developed the disease in 2019, and while treatment access has expanded, about 30 percent were not able to access it. The MEASURE Evaluation study found high patient satisfaction, but also significant TB stigma and unmet needs for counseling, nutrition, transportation support and home-based treatment. Sustained progress is uncertain, with the National TB Program warning in April 2020 that the COVID-19 response was leading to the disruption of basic health services, including TB.
With the assistance of Management Sciences for Health and USAID, the country has made major strides in combatting drug-resistant TB, increasing treatment success by five-fold since 2011 and providing patients with nutritional support and transport reimbursement. However, only about half of the country's estimated 1,600 people with MDR-TB were able to access treatment in 2018.
Rapid molecular diagnosis, which can detect MDR-TB, is still underutilized, with only 313 GeneXpert modules in the country. According to an estimate from USAID, the country needs to increase its number of GeneXpert modules by nearly three-fold, and the number of cartridges by seven-fold, to make this the standard method for all TB diagnoses. TB detection with digital X-ray would also enable faster progress, but it is not in use in the country.
Ethiopia is providing TB preventive therapy to children and people living with HIV, reaching 22 percent and 49 percent, respectively. However, to fully succeed with TB prevention, Ethiopia will need to expand the use of preventive therapy to all at risk, as well as make faster progress on ending poverty and undernourishment, which are the two biggest TB risk factors.
References
Khatri, U. & Davis, N. (2020). Quality of tuberculosis services assessment in Ethiopia: Report. MEASURE Evaluation, University of North Carolina.
https://www.measureevaluation.org/resources/publications/tr-20-415
Reves, R. & Angelo, S. (2016). As Ethiopia moves toward tuberculosis elimination, success requires higher investment. Center for Strategic and International Studies
https://www.csis.org/analysis/ethiopia-moves-toward-tuberculosis-elimination-success- requires-higher-investment-0
Safdar, A., Ngozo, J., Getta, A., Lawanson, A. (2020). COVID-19 & TB Response: Country Damage Control Plans [Webinar]. TBPPM Learning Network.
https://zoom.us/rec/play/68YtcOugrW03TNbGuQSDBPV5W428Lqis1nIe_ aFby07hVyIAZFWuN-YSN7Nx_Xyt6OGW20GZrOh3fruR