Cambodia
Active Case Finding and Treatment Results in Global Success Story
Cambodia has one of the highest prevalence rates of TB in the world, yet it has become a remarkable success story in the fight against the disease. Thanks to strong national leadership, political will and international support for innovative policies – including long-standing support from Japan along with the U.S., the Stop TB Partnership and The Global Fund to Fight AIDS, Tuberculosis and Malaria (Global Fund), among others – Cambodia has significantly reduced the mortality and incidence rates of people developing TB. Twenty-three thousand fewer people developed the disease in 2019 compared to 2000, and 6,600 fewer people died of TB in 2019 compared to 2000.
How was this possible?
The TB response in Cambodia has benefitted enormously from strong leadership in its national TB program, which has not only welcomed support from external partners but has also been willing to try out new approaches, even before they were officially endorsed by the WHO.
In 1998 the country shifted to providing decentralized health services at the community level. The number of community-based health centers providing free TB services increased from 60 in 2000 to around 1,000 across the country by 2005. Then, long before most other countries, Cambodia began using an active approach to finding people who have TB, in collaboration with civil society organizations. This approach reaches people with TB who are in the community with TB, ensuring they are treated and cured and leading to decreased TB transmission.
This involved systematically searching for TB in people who would not otherwise go on their own to a health facility for evaluation. Health officials started by working with community leaders and health volunteers in vulnerable communities to locate people who had likely been exposed to TB. Using mobile X-ray and TB testing services, health workers screened people for the disease, including neighborhood contacts of a person with TB, and then initiated treatment as needed. The goal was to broaden access to care at the local level and remove the need for patients to travel long distances. This community TB screening approach increased TB case notifications by 65 percent.
In 2012, Cambodia successfully expanded to intensive screening for TB in urban settlements, including the use of rapid molecular diagnostics. In 2018, active case finding campaigns expanded further to rural areas that had little access to new diagnostic and screening methods, particularly among the elderly, who make up 50 percent of people with TB in the country, and other key affected populations. These innovative campaigns have used lay counselors and TB survivors to identify people for TB screening. As the chart shows, active case finding helped bend the curve in incidence rates.
Cambodia was also far ahead of most countries in providing TB preventive therapy (TPT), which has been shown to be very effective in reducing the risk of TB. In 2010, Cambodia began a TPT pilot program for people living with HIV, with subsequent national scaleup. In 2015, with U.S. Agency for International Development (USAID) support, TPT was rolled out for children under five years of age, who make up an estimated 19 percent of people with TB in the country, with further expansion under the Global Fund grant to reach more than two-thirds of the country.
In 2020, the Cambodian civil society organization Khana received funds from USAID's TB Local Organizations Network to launch Community Mobilization Initiatives to End Tuberculosis (COMMIT), for early TB case finding, linkage to diagnosis and treatment support, TB prevention and community engagement. Khana has been a leader in adapting TB programs to maintain TB services in the context of COVID-19, as well as in regional advocacy on TB.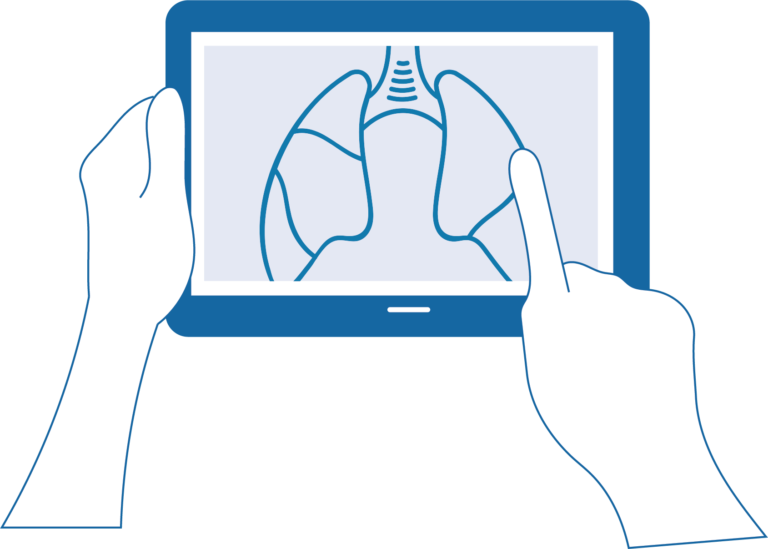 Cambodia's active approach to finding and treating people with TB involves mobile X-ray and TB testing services.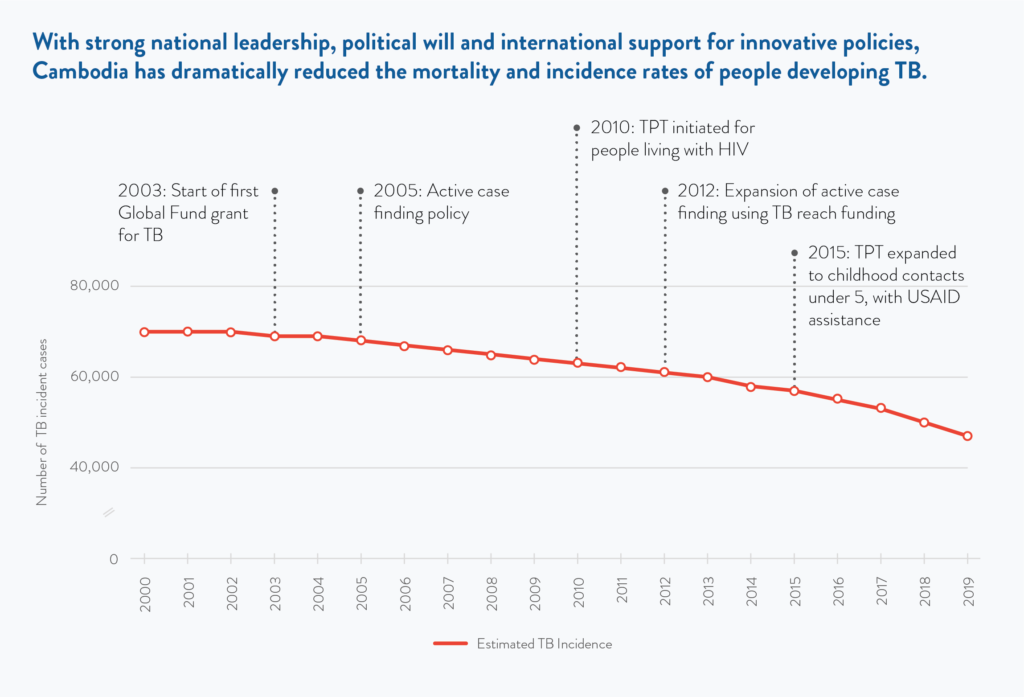 Change in Estimated TB Incidence 2000-2018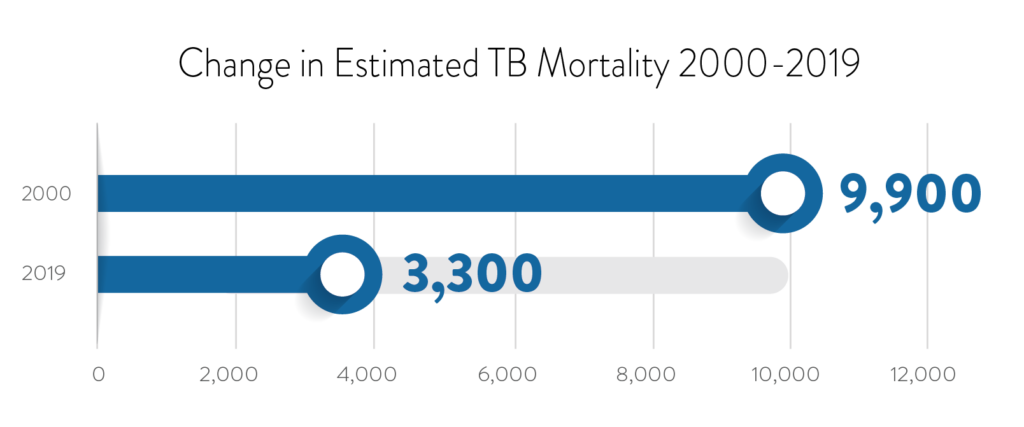 Keeping Up the Fight
Despite many achievements, Cambodia's progress is fragile. With the restrictions on movement following the spread of COVID-19, most active TB case finding activities were put on hold, resulting in a delay in identifying new people with TB.
42 percent of people with TB are not receiving treatment, and preventive therapy must reach many more people.
According to research by USAID, the country needs to triple the number of molecular testing devices (Xpert MTB/ RIF) to meet the need for rapid TB screening.
While the rate of multidrug-resistant (MDR) TB in Cambodia is relatively low, an estimated 1,000 Cambodians developed this form of TB in 2018, yet only 128 were started on treatment.